In May, Zuckerberg took the stage at Facebook's 8th annual developers' conference and announced his latest venture, Facebook Dating. Users create profiles that include their occupations, education, and interests to connect with others in their areas in the hope of finding a relationship. Users who opt-in can only be seen by others who've opted-in. Their profiles will also not be visible to Facebook friends, which will help avoid the awkward situation of finding your aunt on Facebook Dating. Facebook will show relevant profiles based on the users' interests and if they have any mutual friends. There's also the option to browse events and groups in their area and "unlock" them in order to see other users in the area who've unlocked the event, making a first date spot a lot easier to choose. If 2 people express interest in each other, they can message each other in either Messenger or WhatsApp (both owned by FB). Facebook also plans on limiting the number of people that a user can be interested in to encourage genuine interest and more meaningful matches.
The new feature will be launched within the existing Facebook App rather than as a standalone app. Facebook used a similar tactic with the Messenger app, which was originally launched within the existing Facebook app before becoming the 4th most popular app in the store (Facebook is currently the 5th). The purpose of launching a separate app in 2014 was because Zuckerberg wanted the regular app to just be a news feed (which it has long since pivoted from). Facebook also saw 10 billion messages sent every day that users needed to enter Facebook and click a separate tab in order to respond to. If Facebook Dating really takes off, it's likely that Facebook will release the service as a standalone app to encourage users to engage with the platform beyond the normal Facebook app and to separate the idea of having all of your friends and relationships in the same app.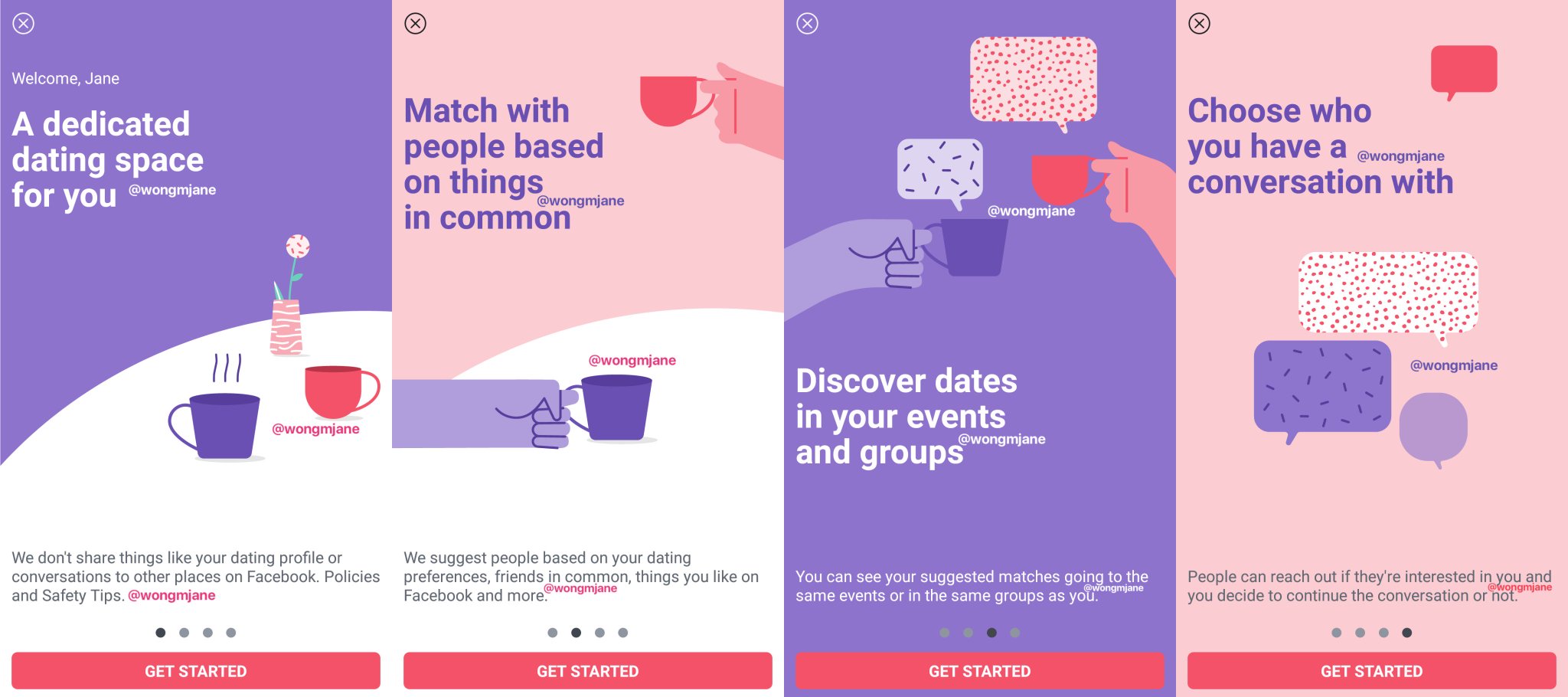 The online dating world has come a long way from its inception in 1995 with the launch of Match.com, a website aimed at matching couples looking for long-term relationships based on their interests. There was once a stigma surrounding meeting your partner online, but recent trends have made it closer to the norm. With 50 million active users and 1.6 billion swipes per day, Tinder has changed the online dating landscape in just 6 years. Users can find a partner on the same day with just the swipe of a finger.
Tinder disrupted the online-dating industry by targetting mainly university students and minimizing friction in the matching process. The popularity of the app, especially in the 18-24 age range, has had a huge effect on reducing the stigma of meeting people online. Because of this, dating apps now are more successful than ever. As of 2018, 331.3 million people around the world actively use online dating sites. The industry as a whole generated $1.4 billion in revenue in 2017 with Match Group Inc., owner of over 45 brands including Match.com, Tinder, and OkCupid, leading the market ($12.2 billion market cap). The announcement of, "Facebook Dating", alone was enough to cause Match Group to lose 22% of its share price. The CEO of Match Group was quoted biting at Zuckerberg, "Come on in. The water's warm. Their product could be great for US / Russia relationships."
The competition can be measured along 2 axes: commitment involved, and how niche it is. Some apps like Tinder and Match.com are suitable for every group (eg. any orientation, any race) while apps like EastMeetEast and Grindr fit specific niches (eg. ethnic groups, non-heterosexual). These apps can also be organized by the length or seriousness of the relationships that users are looking to find. Tinder falls closer to the side of one-night-stand and casual relationships, while OKcupid and Bumble push their users towards long-term relationships. Facebook Dating aims at the extreme of both; it has mass appeal and aims at forging real commitments.
As society becomes more comfortable with online dating, Facebook decides to throw itself into the ring. With Facebook Dating, Zuckerberg has an advantage that no competitor can even begin to compete with, 2.2 billion active users, 1.45 billion of whom use the website daily.  Dating apps rely heavily on network effects; with more users on the platform, the quality and quantity of the matches will be higher, and the more data Facebook can collect and use in their algorithms. If even a quarter of the users on Facebook opted-in (500,000,000 people), Facebook Dating would become the largest dating app in the world. With the data collected from those users, Facebook could create an incredibly tailored algorithm for creating the "best" matches.